In this Thrive Themes review you will find out where the hype comes from.
Why do so many people switch to Thrive Themes? Is this really a conversion optimized theme?
What does the entire package contain? And what's more, is it value for money?
I agree that you can get along fine with free themes.
But in this Thrive Themes review you can read why it is so important to have a WordPress optimized theme.
Let's get into it!
Thrive Themes Review: What Is It?
Thrive Themes is a company that originally focused on themes for your website.
Currently their USP or their USPs are the plugins that they have developed for the themes.
I will tell you more about these plugins in detail, no worries.
In addition to the plugins, Thrive Themes also has a number of standard themes that you can use.
All themes and plugins that they develop are meant for the small entrepreneur or small businesses.
They make their products so that they are all conversion optimized.
We all want this of course, but is that really true?
Discover this in this Thrive Themes review.
WordPress Themes
The themes of Thrive Themes are all intended to maximize the conversion rate of your website.
The Thrive team is currently working on Thrive Themes 2.0.
This will be the next generation of a visual theme builder.
The intention is that you can build everything front-end.
In a way we have never seen.
At least, the makers claim that.
They also say that that is why it takes so long to implement the new update.
After all, they had wanted to be ready for a long time.
In the video below an extensive explanation of one of the developers.
The old themes are currently still available for Thrive members.
What can you expect from that?
Thrive Themes Plugins
Well, I have just talked about the Thrive Themes plugins.
The plugins usually ensure that people want to use Thrive.
Piece by piece, they can help incredibly well in building your business.
These are multiple tools that you normally have to buy separately for a ridiculous price.
But now all together in one package!
That also creates a nice overview, I personally really enjoy it!
The plugins can also be purchased separately, so if you want to use 1.2.3 plugins for 1 website, I advise you to buy it separately.
You then pay a one-off amount and therefore no recurring subscription.
However, if you want to use more than 3 plugins or on multiple websites, I recommend the full plan.
Which is also not expensive for what you get.
Note that the new update is coming and the price is likely to rise.
Thrive Architect
This plugin is a visual content builder for wordpress that lets you use a drag-and-drop interface to create pages and posts.
This tool has a game changer for me as it makes it simple and fun to create all sorts of pages.
Including opt-in and sales pages.
Instead of using the default WordPress editor you can edit any page or post using thrive architect and make use of all their design elements.
These include many features like:
The other great thing about Thrive Architect is that you can create templates and what they call " symbols ".
A template is a section that you can easily save and then re-use on another page.
A symbol is a master section that you can create once and then use it on verious pages.
If you need to change it you can simply change the master section and it will change everywhere on your website.
This saves a ton of time!
Thrive Architect also comes with a free library or landing page templates that you can use for your opt-in and sales pages.
This again is a huge time saver.
You can choose the template and then customize it to your needs.
Their are lots of templates and Thrive Themes keeps adding new templates.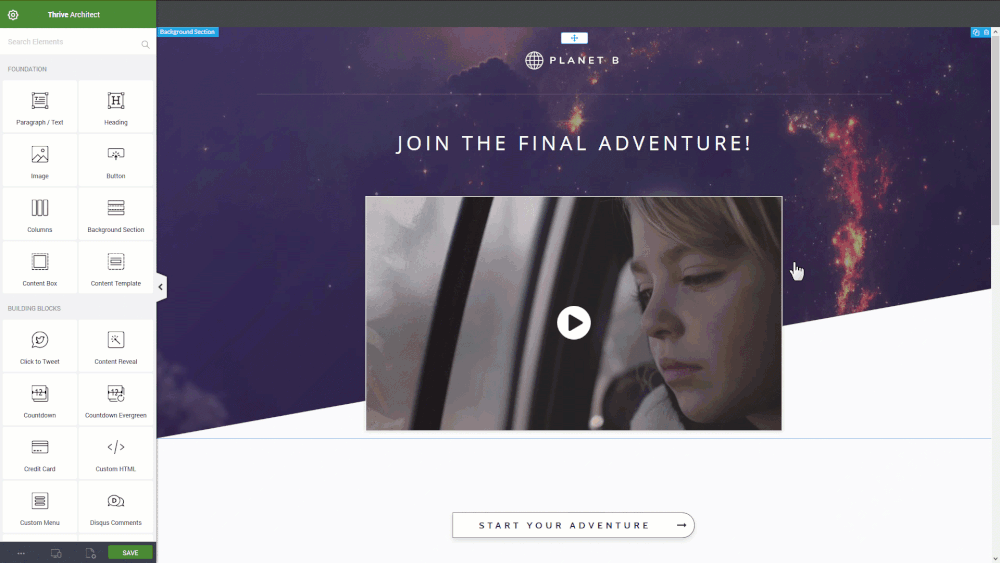 Thrive Architect VS Elementor Pro
We all know Elementor Pro.
Which of these two page builders is ultimately the best?
Thrive Architect or Elementor Pro?
I started looking for this and came across a video that prefers my thoughts.
I used to use Elementor Pro, but I switched to Thrive Themes.
Spoiler alert: The winner is Thrive Architect.
See why down below.
Thrive Leads
Next up we got Thrive Leads.
This plugin makes it easy to create opt-in, call to actions and strategically ad them to specific pages and posts.
The 9 types of content are:
You can create an opt in and then use the visual drag and drop editor.
And then you can add it to specific pages and posts.
You can easily exclude pages and post that you don't because it appeals to you.
Thrive Leads also tracks conversion metrics within the plugin in WordPress.
So for each opt in the plugin tracks impressions, opt ins and the conversion rate.
This gives you the data to understand who opts performing best and who needs to be improved on.
Thrive Architect & Thrive Leads are my favorite plugins that I use all the time.
Thrive Leads integrate with a lot of e-mailmarketing services like:
Thrive Quiz Builder
Nex we have Thrive Quiz Builder.
This plugin lets you boost website engagement by making use of online quizzes hosted right on your WordPress site.
You probably have seen those quizzes that let you determine what personality type you have.
By using these types of quizzes you can better and more specifically target your visitors.
For example, if you have a fitness website, you can create a quiz that also includes questions such as:
How old are you?
Man or woman?
What is your target?
And create targeted campaigns for these people based on this information.
You can also give them the opportunity to share their results on social media.
Thrive Ultimatum
This plugin lets you create evergreen countdown campaigns to use scarcity as a part of your online marketing.
You can create:
Fix date campaigns,
Recurring campaigns
And ultimate evrgreen systems that create a custum experience for each of your potential buyers.
This plugin makes it easy to build scarcity right into your campaign and encourage your visitors to convert.
Thrive Ovation
Thrive Ovation is a plugin that lets you gather and display testimonials for social proof.
It's essentially a testimonial management system that works within WordPress.
You can use Trhive Ovation to:
capture new testimonials from new customers on your site,
Review them in the backend of WordPress,
Aprove them,
Built up a library for your own testimonials,
Manage them using tags and then smartkey display them on relevant sales pages based on those tags.
So this is extremely powerfull.
Thrive Comments
Okay, next up is Thrive Comments.
This plugin converts your WordPress comments and makes them more fun and engaging.
Similar to the way the comment section works on Facebook and Reddit.
With Thrive Comments you can easily:
Let your visitors upvote or downvote other comments,
You can feature specific comments on top of the feed,
Your comments are high-lighted as the Author,
And you can let your visitors unlock bages based on the actions.
And all of this in a well designed comment system while keeping comments on your WordPress site without using some external third party plugin.
Thrive Optimize
Then next we have Thrive Optimize.
This plugin let's you A / B test your landing pages.
The way it works is that you can set up multiple landing pages.
The plugin will then test pages against eachother and automatically deside whose page is the best one.
And it will then set the winner automatically.
This is another powerfull tool that can be used to increase clicks and engagement on your site.
Thrive Clever Widgets
Next up we have Thrive Clever Widgets.
This plugin lets you display sidebar widgets based on categories, tags, post types and individual posts and pages.
This means that you can customize the sidebar widgets based on what content your website visitor is consuming.
You can for example show related blog posts that are related to a specific post that the visitor is reading.
Or you can display specific ads that are related to the content that your visiter is viewing.
This lets you customize the visitor experience and improve engagement and conversions.
Thrive Apprentice
And last but not least we have Thrive Apprentice.
This plugin lets you create courses on your WordPress site.
Your courses can be made up of modules and lessons and as it stands they have developed an integration with a shopping cart.
This shopping cart gives you the freedom and opportunity to host, sell and deliver your own courses right from your own site.
Without the need or using other external course platforms.
Thrive Membership
Thrive Membership includes:
Customer Support
As a user of Thrives Themes you can contact the support team through a so-called " ticket ".
Enter your details and your question here.
Usually you have an answer within 24 hours.
So this is great service.
In addition, you can also use one of the many other options that Thrive has developed to help you as well as possible.
For example, you have the knowledge base that contains a huge number of articles with instructional videos.
You also have various webinars that organize them and you can use the Thrive Themes University.
Here you have a large number of courses and many more tools to help you build your business.
This is what you get when you purchase the Thrive Membership.
Thrive Themes Pricing
What we don't often see with software like Thrive Themes is that you cannot purchase the individual parts separately.
This is the case with Thrive Themes.
The prices vary and are one-off.
Please note that you can also use this for a limited time.
That is why I always advise you to opt for membership if you are a serious entrepreneur.
Do you have a website and are you not planning to make more?
Then you can always buy a separate plugin.
You can see the prices of the membership below.
The individual prices of the plugins can be viewed via this page.
You do have the chance to reclaim your money within 30 days if you are not satisfied.
This is the policy of Thrive Themes and is of course always nice to see.
Pros And Cons
Do I Recommend Thrive Themes?
Given all the features and tools that you get from Thrive Themes, I think it's absolutely 100% worth your money.
In addition to the good support and the many options that you get, it is also super easy to use.
Then there is also the fact that you can purchase everything together in the membership for little money.
Thrive Themes Review: Conclusion
In my view, Thrive Themes is still the best page builder.
In addition, the premium plugins are the best in their category that you can currently find on the market.
The price seems a lot at first sight, but of course this is definitely not the case.
View this page for the current prices and possible discount promotions.
If you are a small entrepreneur or have a small business and you are looking for software to take your business to a higher level extremely quickly, Thrive Themes is ideal for you.